Hi, The Softaculous AMPPS Team has released AMPPS 1.7 This version of AMPPS adds some cool new features and fixes some bugs. A complete list of changes: 1) The current version of AMPPS for Windows include: Softaculous AMPPS 1.7(
Softaculous 4.0.6
) Apache 2.2.22 PHP 5.3.10 and 5.2.17 PERL 5.10.1 Python 2.7.2 with mod_wsgi 3.3 module
MySQL 5.5.22
phpMyAdmin 3.4.10.2
SQLite Manager 1.2.4
MongoDB 2.0.4
(Only 64-bit) RockMongo 1.1.0
FileZilla FTP Server 0.9.41
2) The current version of AMPPS for Mac include: Softaculous AMPPS 1.7(
Softaculous 4.0.6
) Apache 2.2.22 PHP 5.3.10 and 5.2.17 PERL 5.14.1 Python 2.7.2 with mod_wsgi 3.3 module
MySQL 5.5.22
phpMyAdmin 3.4.10.2
SQLite Manager 1.2.4
MongoDB 2.0.4
(Only 64-bit) RockMongo 1.1.0
Pure-FTPd Server 1.0.35
3) Now one click update for AMPPS binary is available.
4) Now AMPPS supports SSL. Option to create SSL entry while adding a domain. 5) While adding a domain in AMPPS, it gives an option to add an entry to Host File. 6) FTP Users can be created and managed with the help of FTP Account & Manage FTP in Enduser respectively.
7) Active / Inactive Status for mod_ssl, FTP Server in Status Page. 8 ) Select / Deselect Scripts as per the Category in the Admin Software page.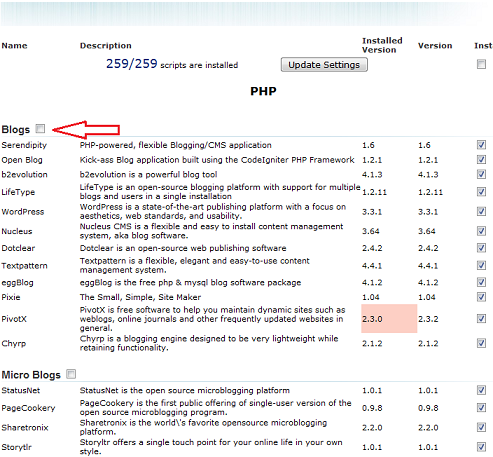 9) When a package is downloaded now it will show the mirror from which it is being downloaded. 10) API Improvement of scripts. 11) Language Translation improved in some scripts. 12) Package unzipping improved. 13) Now Admin can specify a seperate FROM E-mail Address and Admin E-mail Address. 14) Email Settings Ajaxified in enduser. 15) Now any path can be specified in Domain Path while adding a domain. 16) Bug Fix : AMPPS application if minimized, exists when child window like 'About", "Info", etc opened from System Tray is closed. Now this is fixed. (Windows only) 17) Bug Fix : AMPPS crashes when the authorization request was canceled by user. Now this is fixed. (Mac only) 18) Bug Fix : Relative Path check while installing scripts in sub-directory. 19) Bug Fix : When Softaculous is loaded for the first time the details were saved but not returned. This is fixed now. 20) Bug Fix : AJAX List Categories for JS and PERL scripts fixed. 21) Bug Fix : While removing installation sometimes "undefined" used to come. This is fixed now. Regards, The Softaculous Team